Confidentiality In Colorado Divorce And The Family Mediation Process
On this page, we discuss in detail the single issue of Colorado mediation process and mediator confidentiality.
Are Divorce Mediation Sessions Truly Private? Are Our Communications To A Family Mediator Fully Protected As Confidential By Colorado Laws?
Absolutely! Colorado mediation law and Colorado mediators' professional ethics assure divorcing parties or separated parents that − without their consent − their discussions and efforts to resolve divorce and parenting concerns cannot be used against them or accessed by others outside the mediation process. At Divorce Resolutions, all mediators are licensed attorneys, and some of them are retired judges. We are meticulous and strict about protecting clients' confidentiality at all times.
Colorado's Laws Regarding Confidentiality
The Dispute Resolution Act (Section 13-22-301 et seq.) of the Colorado Revised Statutes insulates from disclosure to others, and from use in Colorado courts, all communications made in divorce and family (as with all forms of) mediation.
This Colorado law broadly defines a mediation communication as:
any oral or written communication prepared or expressed for the purposes of, in the course of, or pursuant to, any mediation services proceeding or dispute resolution program proceeding, including, but not limited to, any memoranda, notes, records or work product of a mediator, mediation organization, or party; except that a written agreement to enter into a mediation service proceeding or dispute resolution proceeding, or a final written agreement reached as a result of a mediation service proceeding or dispute resolution proceeding, which has been fully executed, is not a mediation communication unless otherwise agreed upon by the parties.
This protection is sweeping and accepts narrowly only disclosures to mediators or mediation communications made:
With written consent of the divorce parties and the mediator
Revealing criminal intent or threatening injury to adults or the safety of minors
Concerning substantial misconduct of a mediator
All other mediation communications are privileged and immune from admission into evidence in any Colorado divorce or paternity trial, other family law dispute court hearing or administrative proceeding.
Colorado Mediators' Confidentiality Standards
In addition to the protections and privileges afforded to divorce and family mediation by this Colorado law, Colorado mediators' professional ethics establish protocols to maintain confidentiality.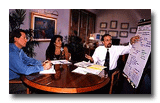 As an example, the Colorado Model Standards of Conduct for Mediators direct Colorado mediators to:
Preserve confidentiality of all mediation proceedings
Conduct the mediation to afford the greatest protection of confidentiality afforded by Colorado law
Advise parties about confidentiality's boundaries
Not disclose mediation communications, except as authorized
Constrain the participation of observers or third parties by requiring appropriate confidentiality agreements
Maintain client's confidentiality in records and in research and training materials
Protect the mediation's confidentiality by resisting subpoenas or third party's (including lawyer's) efforts to compel the mediator's testimony or disclosure of mediation discussions
These standards, though intended for voluntary use, have been endorsed by the Colorado Bar Association, Colorado Judicial Institute, the Colorado Department of Law, the Office of Dispute Resolution of the Colorado Judicial Department, and importantly, the Colorado Council of Mediators (CCMO) − Colorado's mediators' professional organization.
A second ethics code, the Colorado Council of Mediators' Code of Professional Conduct, imposes similar obligations of confidentiality in the mediation process.
Divorce And Family Mediation: A Protected And Confidential Process In Colorado
The provisions of Colorado's statutory framework and dispute resolution law, and the directives of Colorado mediators' ethics, assure parties a protected and secure environment for resolving their Colorado divorce, parenting or family law matter − in mediation.
As a result, mediators and divorcing couples or separated parents can "brainstorm" and consider new ideas and alternatives in safety. Mediation's confidentiality is thus another powerful advantage to the ordinary litigated and courtroom approach to divorce.
(See our website's section on Why Choose Mediation? For other compelling reasons to consider mediation of your divorce case or parenting dispute.)
Also consider our website's acclaimed Frequently Asked Questions and Myths resources, where we answer other questions and debunk commonly held misunderstandings − regarding Colorado divorce laws, court procedures and alternative dispute resolution alternatives, such as family mediation.
Don't Wait To Get Legal Counsel – Call Today
No matter what you are going through, having an experienced lawyer who can clearly explain your options can make all the difference. Act today by contacting our office and scheduling an initial consultation with one of our mediators, all of whom are licensed attorneys. You can reach our team by calling 303-650-1750. You can also email us for a prompt response.
From our offices in Denver and Westminster, we offer both in-office and virtual meeting opportunities. Through Zoom, Microsoft Teams, Skype and other platforms, we provide clients within and outside the Denver metro area with both convenience and confidentiality in consultations, mediations and breakout one-one-one conversations.