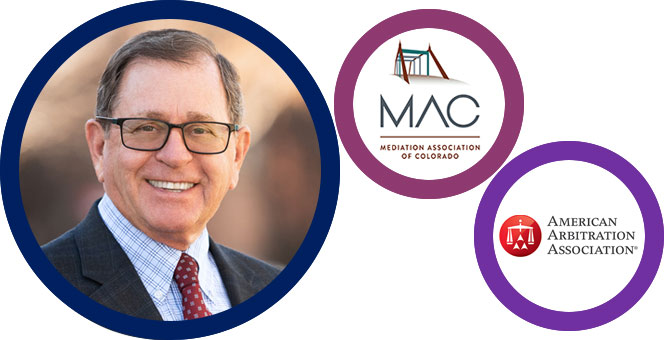 Judge Edward Moss (retired) was a litigator for 24 years followed by 16 years as a Colorado District Court Judge. His practice is limited to mediation, arbitration, and private judging (pursuant to Colorado Revised Statute §13-3-111). Before going into private practice, he was a United States Supreme Court judicial intern and a law clerk to Judge Sherman Finesilver at the U.S. District Court in Denver.
Judge Moss has presided over hundreds of jury and court trials while assigned to civil, domestic relations, criminal, and juvenile divisions. His cases included contract, products liability, divorce / parental responsibility, construction, homeowner association, partnership, oil and gas, personal injury, and employment disputes. While a judge, he was a member of the Colorado Supreme Court's Multi-District Litigation Panel.
Judge Moss is on the panel of the American Arbitration Association and a member of the Colorado Bar Association business and family law sections. He is a long-time member of the CBA Ethics Committee (Chair, 2016-2017). Judge Moss is a frequent lecturer on trial court practice and legal and judicial ethics and has received several awards including volunteer lawyer of the year from Metro [Denver] Volunteer Lawyers and CASA Judge of the Year. Before being appointed to the bench, Judge Moss was the Mayor of Westminster, Colorado.
Specialties
Mediation  
Arbitration
Private Judging Appoitments
Specialties / Practice Areas
Mediation, arbitration, and private judging appointments of family law, business law, and other civil disputes.
Available for Colorado Supreme Court private judging appointments under Colorado Revised Statute §13-3-111.
Private Judging

Under Colorado Revised Statute §13-3-111, litigants may jointly request appointment of a retired judge to preside over their case. The private judge handles all aspects of the case including  discovery, motions, and trial. Rulings and verdicts are appealable under the Colorado Appellate Rules to the Court of Appeals and Supreme Court. Private judging allows counsel and litigants to receive more timely attention to pretrial issues; and to schedule hearings and the trial for times more convenient to the parties, counsel, and witnesses.