Colorado Divorce And Parenting ("Parental Education") Classes
Colorado Family Law And Policy Promoting Parenting Education
Colorado divorce laws officially recognize that parenting research convincingly:
Documents the negative impact divorce and separation can have on children
Establishes that children in such cases often exhibit a decreased ability to function academically, socially and psychologically because of stress
Demonstrates that divorce process and co-parenting education can effectively assist parents to help support their children during the family's divorce transition
This Colorado parenting law (the "Parental Education" law) extols programs, which 1) educate parents about the divorce process and its impact on adults and children, and 2) teach co-parenting skills and strategies so that parents may continue to parent their children in a cooperative manner.
Such divorce and parenting education programs are declared to be in the best interests of children, as a matter of official Colorado family law public policy.
Colorado Court Orders
Accordingly, the legislature authorizes Colorado courts to order parents with minor children (the Colorado law refers to parents with children "under 18 years of age") to attend co-parenting education programs, in:
Dissolution of marriage ("divorce") and legal separation proceedings
Allocation of parental responsibilities ("child custody") proceedings
Parenting time ("visitation") proceedings
Any other post decree (after divorce) parenting proceedings
The language of Colorado's Parental Education Law is permissive ("A court may order a parent …"), not mandatory, but nearly all Colorado judicial districts now require proof of parents' completion of such parenting education classes, as a prerequisite to domestic relations court orders, especially decrees of dissolution of marriage or of legal separation.
Colorado Divorce And Parenting Education Programs
There are many fine divorce and parenting education providers in Colorado.
Metropolitan Denver Parenting Education Classes
In the metropolitan Denver, Colorado area, we consistently hear high praise from our clients for, and we have great respect for many of the regular instructors of, two parenting education class providers and their programs:
Parenting After Divorce was the first co-parenting education provider in Colorado. PAD's classes are held at locations throughout the Metro Denver area (including presently Arapahoe County, Aurora, Denver, Glendale, Lakewood and Parker), and include a Spanish class. Parenting Education Partners' programs are presently conducted in Golden and Highlands Ranch.
Colorado (Statewide) Parenting Education Classes
The Colorado state courts provide the following comprehensive list of approved parenting education classes | parenting education providers. (This list includes Denver area parenting education classes and providers as well.)
Click to review or print:
Online And Long-Distance Divorce And Parenting Education Providers' Courses

Colorado's Parenting Education Partners (see immediately above) also offers a "Distance Learning" home-study course with a manual and audio tape, and with correspondence through mail and email.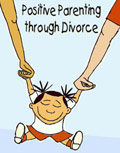 Parker, Colorado's F.A.C.T. ("Families Adjusting to Change and Transition") also offers an online option with the same curriculum as its ordinary Parenting After Divorce Class. F.A.C.T.'s website enables immediate access | printing of a Certificate of Completion following successful testing of mastery of its course contents.
Positive Parenting Through Divorce provides another online course with workbook and course materials addressing co-parenting issues, children's developmental stages, new relationships, step-family issues and healthy communication as well as some legal issues. (Developed by a Florida marriage & family therapist and educator, the course guarantees its materials and certificate of completion satisfy all courts' divorce and parenting education class requirements.)